Discussion Starter
·
#1
·
So I recently had an opportunity to shoot off some barricades using a friends "tactical pillow" and it made a big difference for stability. Then I looked at the prices for tactical pillows and they ranged from roughly $60 to over $100! I'm sure the quality of such pillows is high, but I couldn't bring myself to buy one. So I thought that I would try to make my own. Here are the results: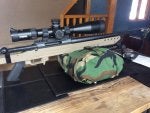 Rough Dimensions (these shift, of course, given the filler): 11''x5''x8''
Materials and Cost
- Beanbag Filler (Amazon): $12 for 2.5 cu. feet (I still have A LOT left over)
- Army Surplus Sustainment Pouch (Amazon): $11
- plastic shopping bags: free (I double them up to make sure the beanbag filler doesn't spill out and to keep things relatively dry)
- Time Costs: 20 minutes
- Total Cost: $23 + 20 minutes of time

I haven't run this in the field. I've only tried this bag in a dry fire scenario. So what do you think?