Discussion Starter
•
#1
•
This is a review of another Spartan Rifle built by Marc Soulie.
http://www.spartanrifles.com/
First I would like to thank Marc for putting this NCPPRC Club Build together. This is my first custom built rifle so I got a lot of input from other club members which really helped out. Here are the stats:
Surgeon RSR Action
Timney Trigger
McMillan A3 Stock with KMW Loggerhead adjustable cheek piece in Desert Camo
Bartlein Barrel
Barrel Caliber 6.5 Chambered for 260 Remington
Twist Rate 1-8.5
Finish Length 26
Contour 7 MTU
Badger M5 detachable magazine bottom metal
Phantom Finishing Cerakote
http://www.phantomfinishing.com/
First impressions are hard to describe. I was jacked up like a six year old on Christmas morning and the best part was knowing that I got exactly what I wanted.
I am really glad I got the A3 stock instead of the A5 which was an option that others chose. The stock feels really natural in both the offhand and prone positions. The stock also rides really well on a rear sock/beanbag. The stocks Desert Pattern is very attractive as is Todd Powers' Cerakote finish on the barreled action and bottom metal.
I mounted a Nightforce 5.5-22 x 50 NXS, loaded up some various loads using Berger, Lapua, Norma, and Sierra bullets and H4350 and went to the range for barrel break-in and load development . Like I stated earlier this is my first custom and was completely surprised on how easy it is to clean this barrel. My break-in procedure only took ten rounds. I shot one and cleaned, shot two and cleaned, shot three and cleaned, and then shot 4 and cleaned. It now takes less than 10 patches and 10 minutes to clean the rifle, even after 50 to 60 rounds. WOW, no more marathon cleaning sessions. I used the ladder method to come up with 2 possible loads, one using 123 Scenars and H4350 and the other using 139 Scenars and H4350. Both loads produced groups of 1.4 inches or less at 300 yards. I'm not sure which load I will use because I haven't had a chance to get out past 300 yards yet.
Update. I've now been able to test both loads out to 1000 yards and both shoot great. The 139's were better in the wind but the 123's actually shot flatter.
Fit and finish is excellent. I've had reason to remove the action from the stock several times and each time the zero is less than 1/2 MOA in any direction. The bolt is smooth and effortless in action. I really love the Timney trigger. It is wide enough for a great feel on the finger pad and breaks cleanly and consistently. I couldn't ask for more.
The only problem I've had so far is that when people ask me about the gun I don't have any of Marc's business cards to hand out.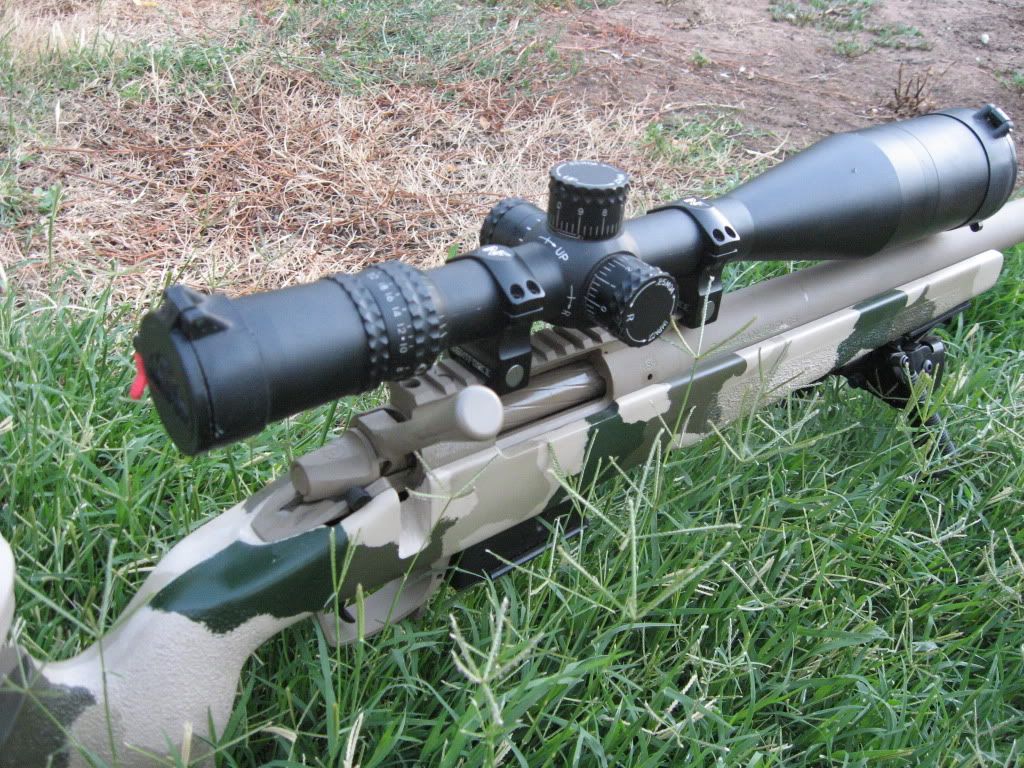 Sam
Last edited by Sam on Tue Jul 12, 2011 4:20 pm, edited 2 times in total.