Rather than tell them they were lost because they didn't have a zero stop, tell them they should have been better prepared as there are other "solutions" to help prevent "getting lost". They may or may not work for you. A zero stop is a nice feature, but its not the only way to skin a cat.
You are always going to have some sort of limitation with your equipment, the trick is to find what they are and then learn how to best utilize what you have. I can't believe Carlos Hathcock was able to do anything with out a zero stop, a scope that would double as a hammer, a rifle that wouldn't shoot .25 moa groups "all day long if he did his part", a laser range finder, a Kestral, a GPS or a host of other modern innovations we now take for granted and "must haves". Yet, if it were Carlos in his prime with his old antiquated equipment vs most of us with our modern innovations in ours, my money would still be on Carlos as I believe its the indian not the bow. That doesn't mean that Carlos wouldn't have liked the innovations or been effective with them. He and others like him pushed for the very innovations we are discussing. Every archer appreciates and desires a well made bow, but learns to shoot the bow he has and employs it with in its performance envelope. Its that skill that makes him effective. You can tell the next guy you see that gets lost on his turrets, I said that
Know you equipment!
Using my MK4 M3, I can't get too lost as it only has one revolution available to me. I usually am shooting a .308 which isn't the flattest shooter, but on the 60 moa on that one revolution of the MK M3 scope is more than enough to make use of the effective range. Using a MK4 with M1 which has 15 moa per revolution or M5 with 5 mils per revolution, it takes me just over 2 revolutions to get out to 1,000 yards with the same 308. If you were using something flatter shooting you would obviously need less. Each revolution of the turret is indicated by a white line. You can simply count how many white lines you have from the top when your rifle is zeroed or you can take a black sharpie and paint over the lines that you are not using, so that you can quickly find your base revolution. This only works if you can see, so if you are going to be shooting in the dark, then a little luminal paint on those hash marks would help along with a dot above your zero. You could even improvise a zero stop if you really wanted one as mentioned before by putting thin washers under your turret that only allow you to go down to your base revolution. The sharpie comes off if for some reason your zero changes more than one rotation, but I would submit that is a large change.
You can always have custom turrets made for your scope, you could color code the reference lines with a different colored sharpie. If I were doing a lot of dialing in the dark, I would want a zero stop. If I had daylight then it would be a nice feature, but not a make or break feature, but then that is based on my experience and my shooting needs, obviously, not everyone has the same needs. I haven't bothered to shim my M1 or M5 turrets, but I have inquired Leupold about it. I may get around to doing it one day, but so I have done ok without it.
It sounds like I am arguing against a "zero stop" and I really am not, its just not a make or break feature for me and my needs. My needs are not yours, so it very well may be a make or break feature for you. Here are a few pictures, to help illustrate what I have said earlier.
I pulled this picture off the internet to make the slide. I would black out the lines I don't use to indicate the bottom, so that when I see the first white line, I know I am on my base rotation. You could certainly color code the next line or two. Three rotations will give me 45 moa, which is enough for me.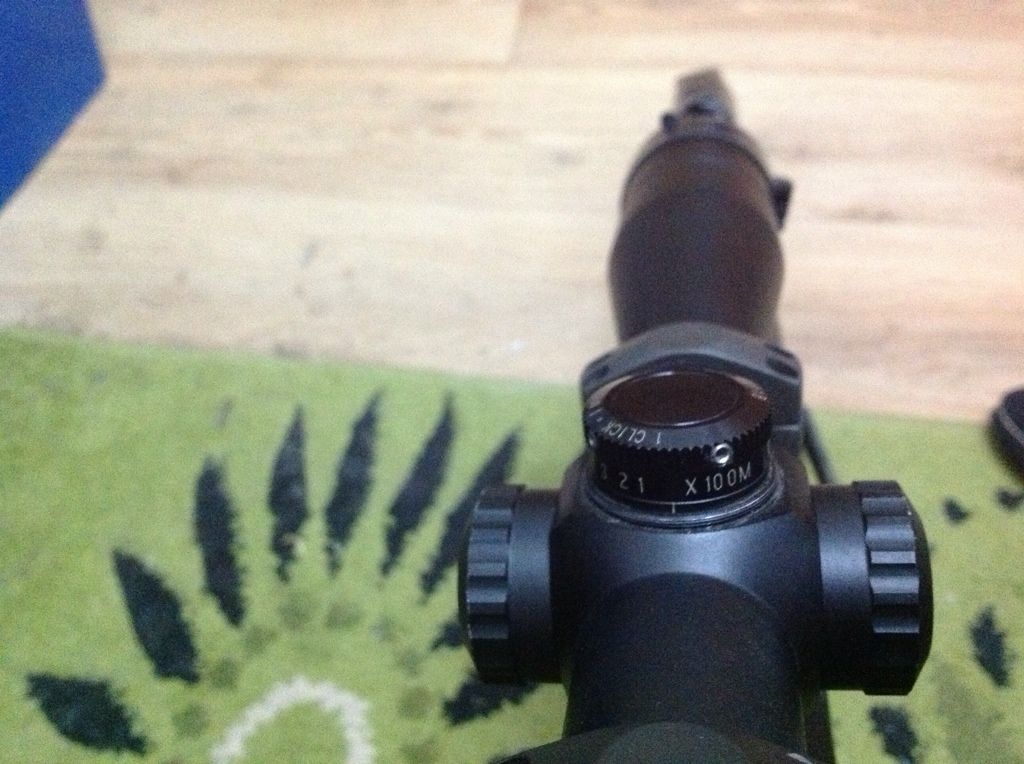 This is an example of my "zero stop" I have it adjusted below my actual zero, so that I can adjust for enviromental factors. My zero on this scope is "1". I always return it to "1" when I put the rifle away. If I think I am going to have "rapid engagement of multiple targets at varying ranges", I set the dial to "3" and then use the hold overs on my scope cap on the target below. As I mentioned there is only one rotation on this turret so its a bit hard to get lost.
These are a few of the fixes that work for me in my "shooting game", they may not work for you in yours. A zero stop may be that one item that makes or breaks your day, but it isn't something that is going to make or break mine, but then I still don't own a Kestral, so what do I know. Sometimes, you just have to figure out a way to make do, with what you have.