Discussion Starter
•
#1
•
Another SHOT came and went. I hate vegas, but getting a chance to put hands on the up and coming items is always fun. Frank Galli and his USMC buddies kept me up one night... Russ and the DTA guys/gals kept me up another night or two... Mike @ Tac Ops was fun to hang out with another night... and my feet/legs were once again murdered by the concrete floors. Rob01 is missing his non-dominant eye from the devastating jab to the cornea he received when he turned my direction in the hornady booth. There wasn't one square inch of that place that we didn't see. Met a bunch of great guys and got to catch up with a bunch I've met before.
Lets get started.
Tangent Theta
We should have scopes within a month or so. Really.
The M-series has seen great improvements from last year's design. The clicks are even better and the addition of sealed turrets has increased their reliability potential. We look for these to be a fantastic crossover hunting/tactical scope. Give me a call to secure yours!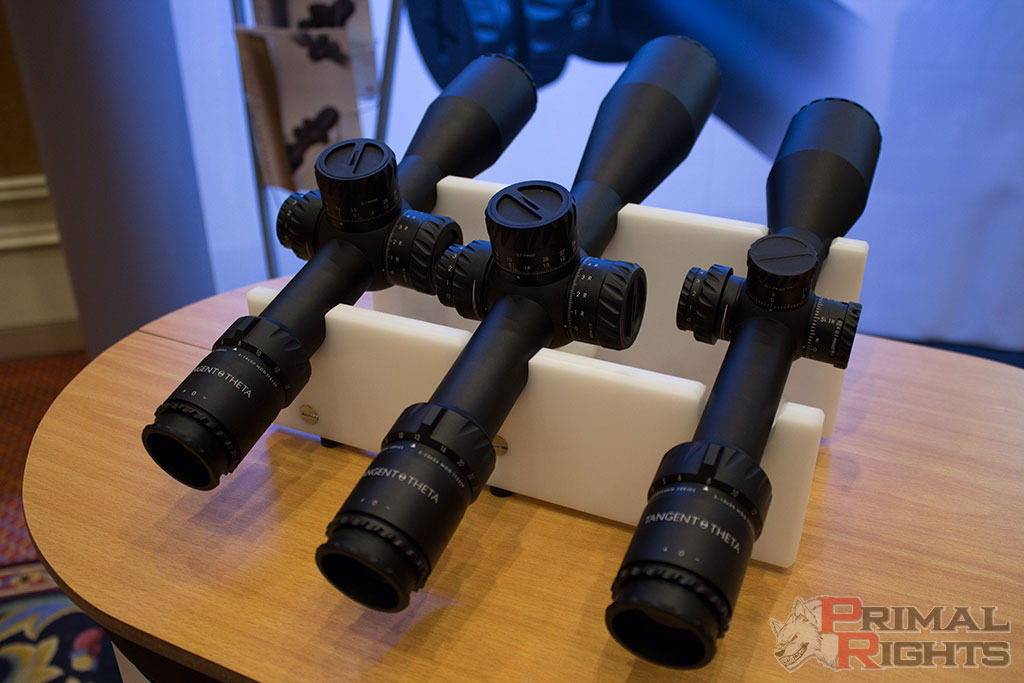 Here's a shot of the new MOA reticle in the 315M.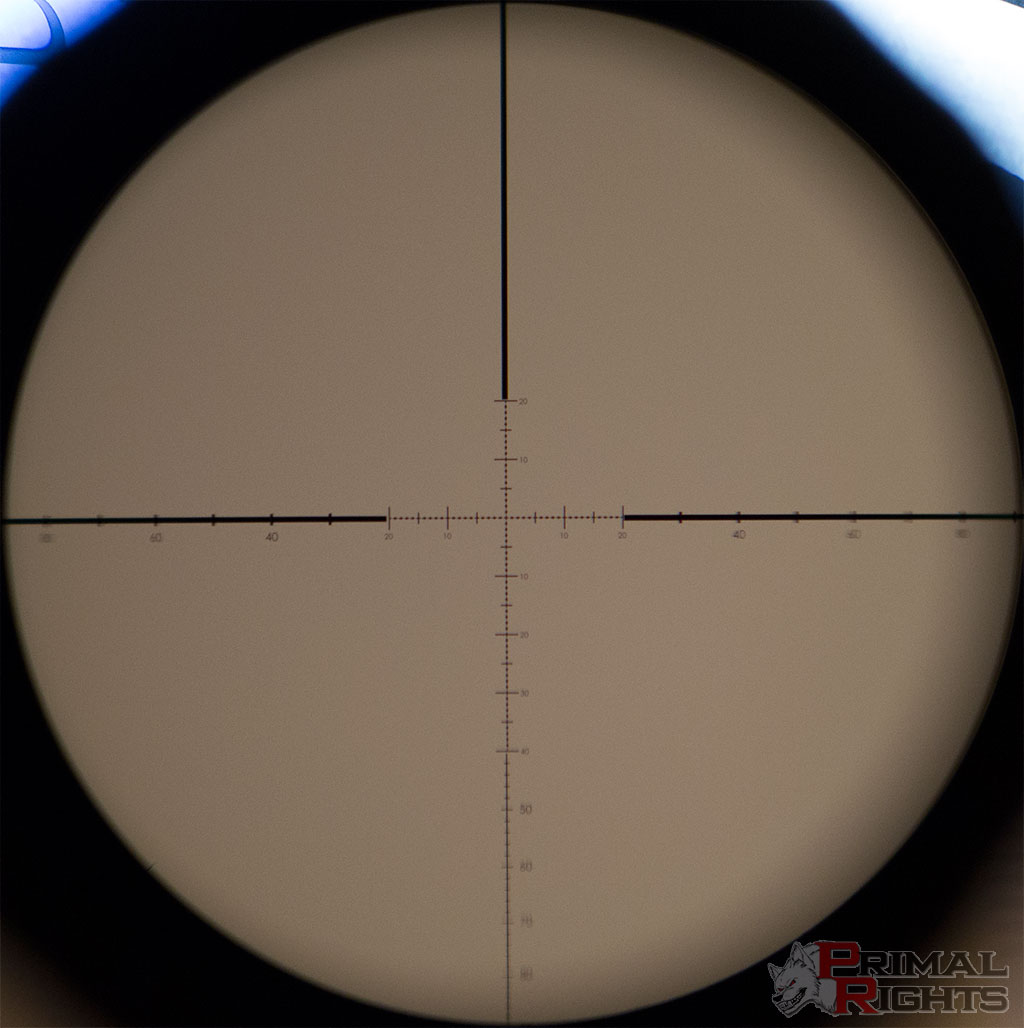 Nightforce
The new F1's from Nightforce are turning heads. Especially that 4-16! It is an outstanding scope with great size to performance ratio at a competitive price. We have a pile on order and will be looking to receive them march/april time frame. The zero-hold is awesome, as is the digital push-button illumination. The scopes will come standard with Tenebraex covers, which is a welcome addition. The entire rear ocular of the scopes rotate just like the NXS models. I was hoping for a static ocular such as is found on the 2.5-10x42 models... but with the included covers, it isn't a deal breaker.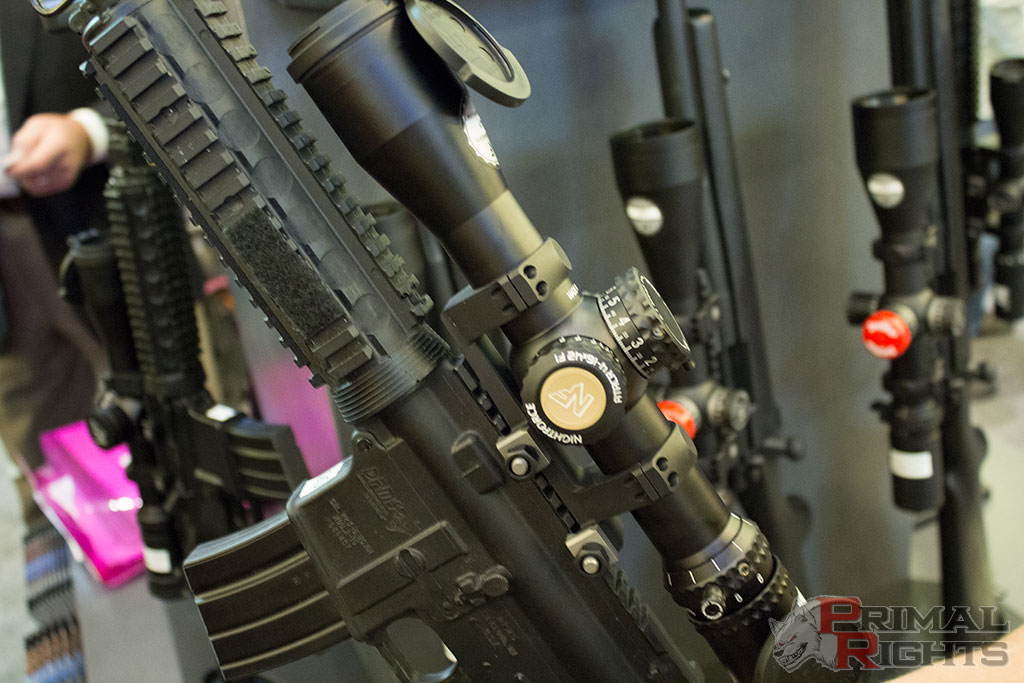 The 5-25 F1 is another great option, but with the scope tunneling from 5-7x... it's far less appealing than if it retained a full 5x magnification ratio. Pretty sad to see that.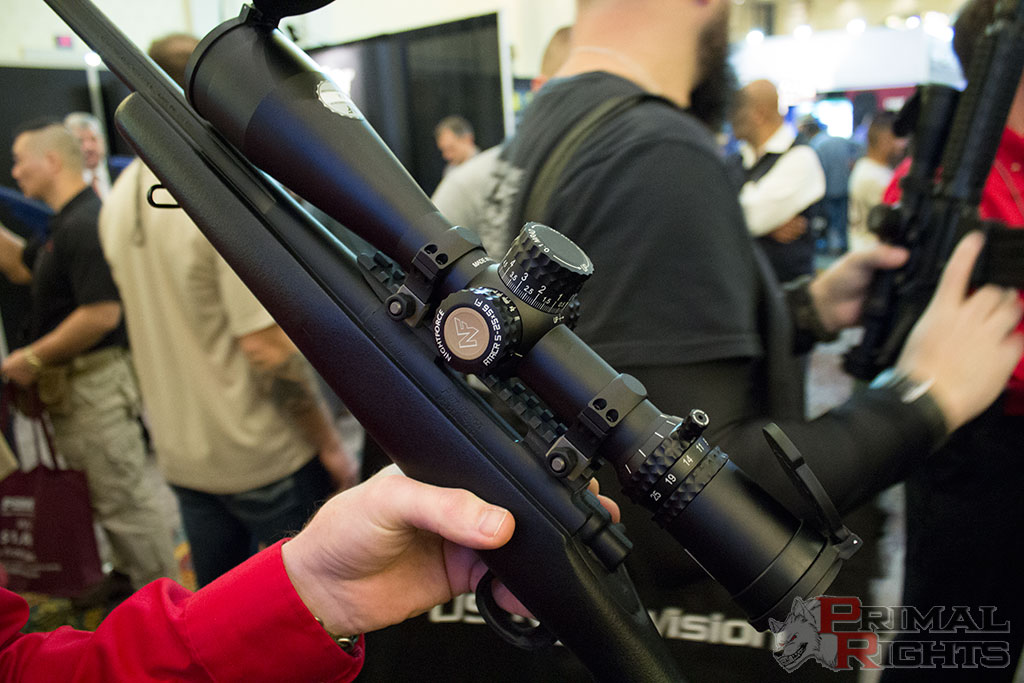 Desert Tech
Desert Tech doesn't really have much "new" this year, but they have polished the products they have presented in the past and have also come to the table with a left handed SRS-A1. We shipped our first lefties today, and look forward to being able to accommodate our "wrong handed" brothers and sisters as time goes on.
How about an MDR with integral OSS suppressor? We look to have the MDR's available for delivery sometime in late 2015.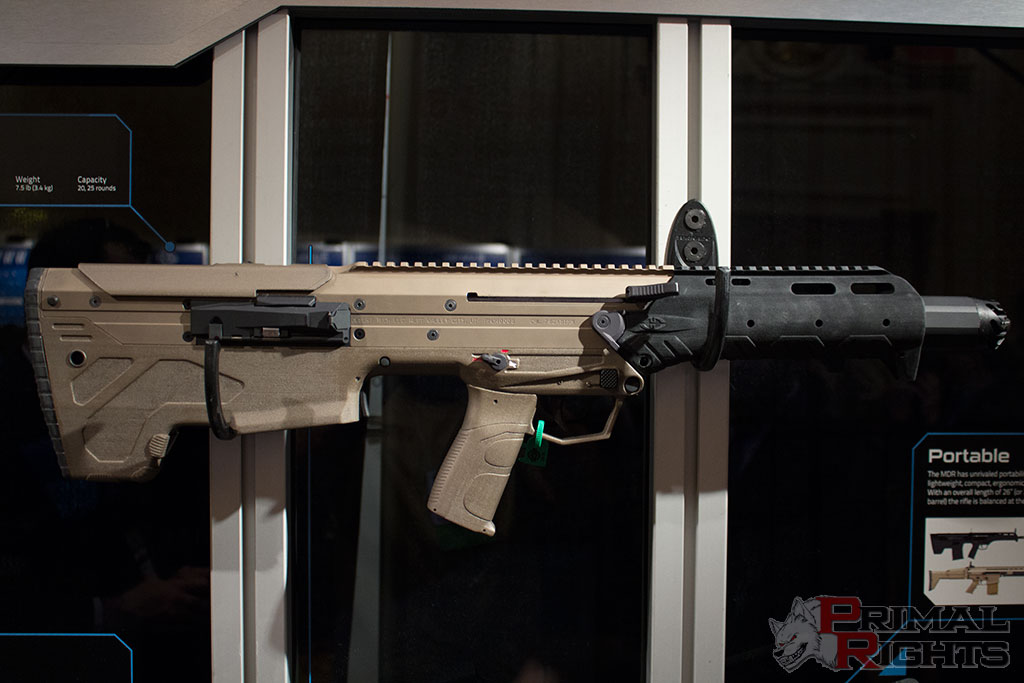 The R7S. We should be starting to see these ready to move around early summer with a rough price of around $800. By far the most impressive and innovative chassis system at the show.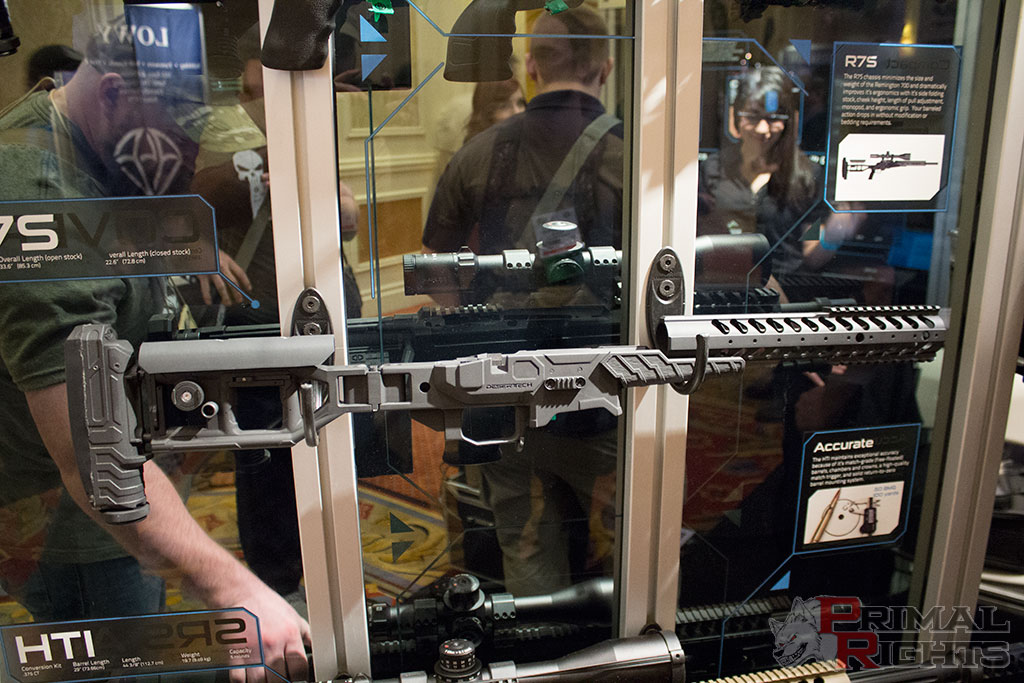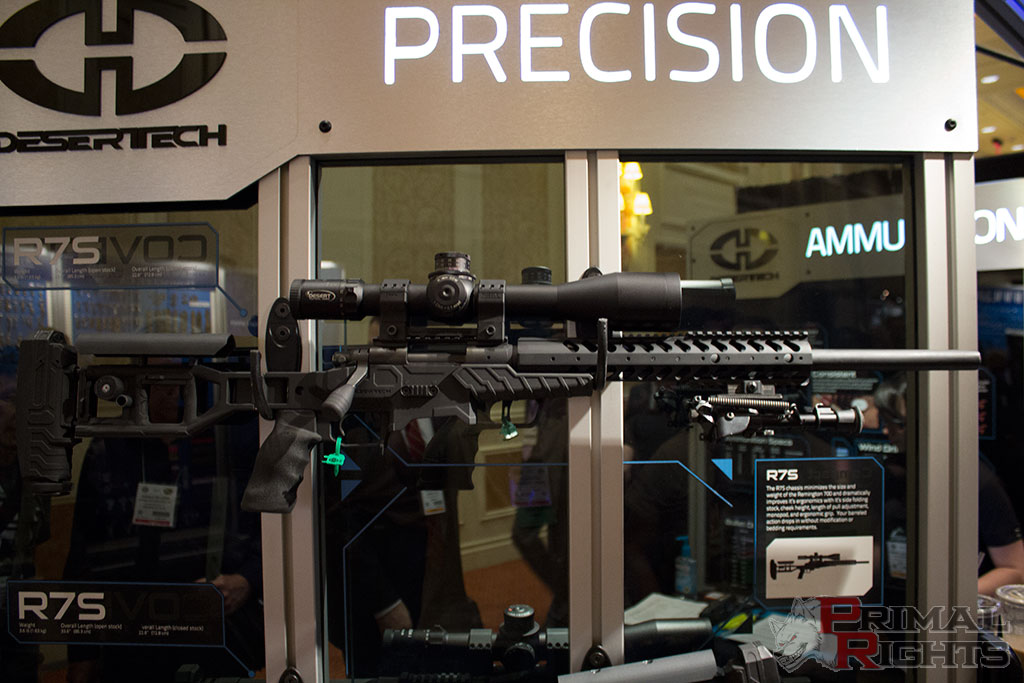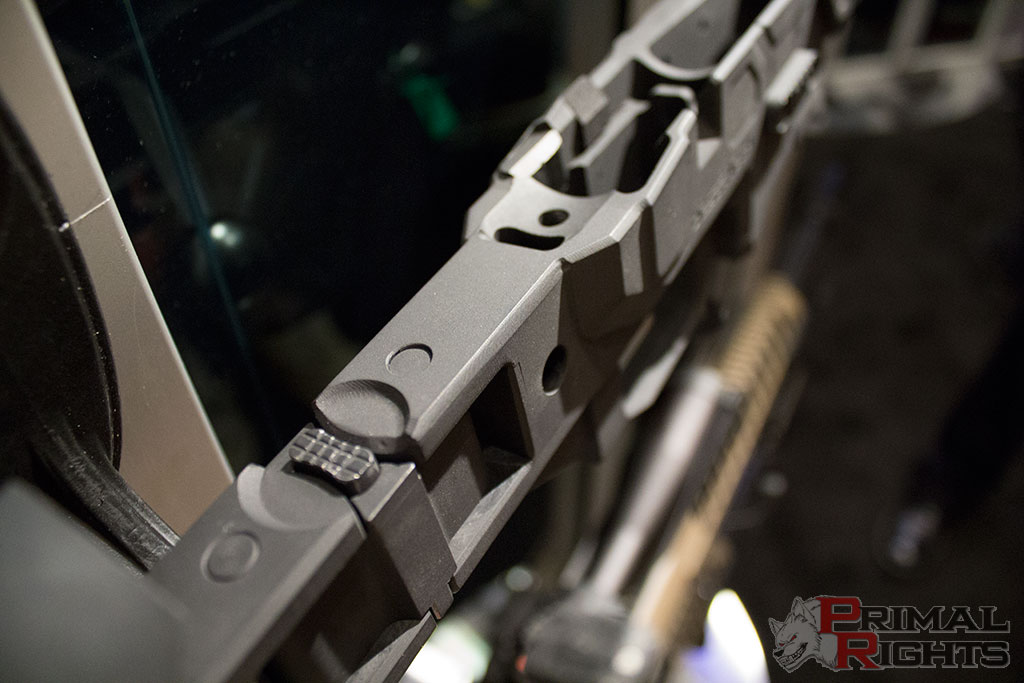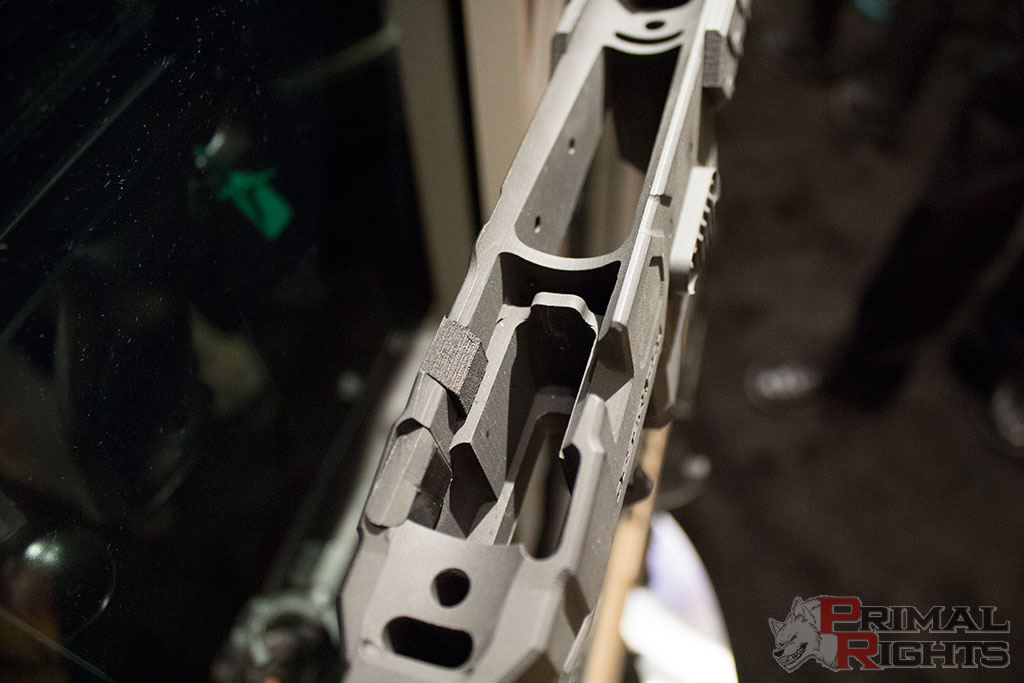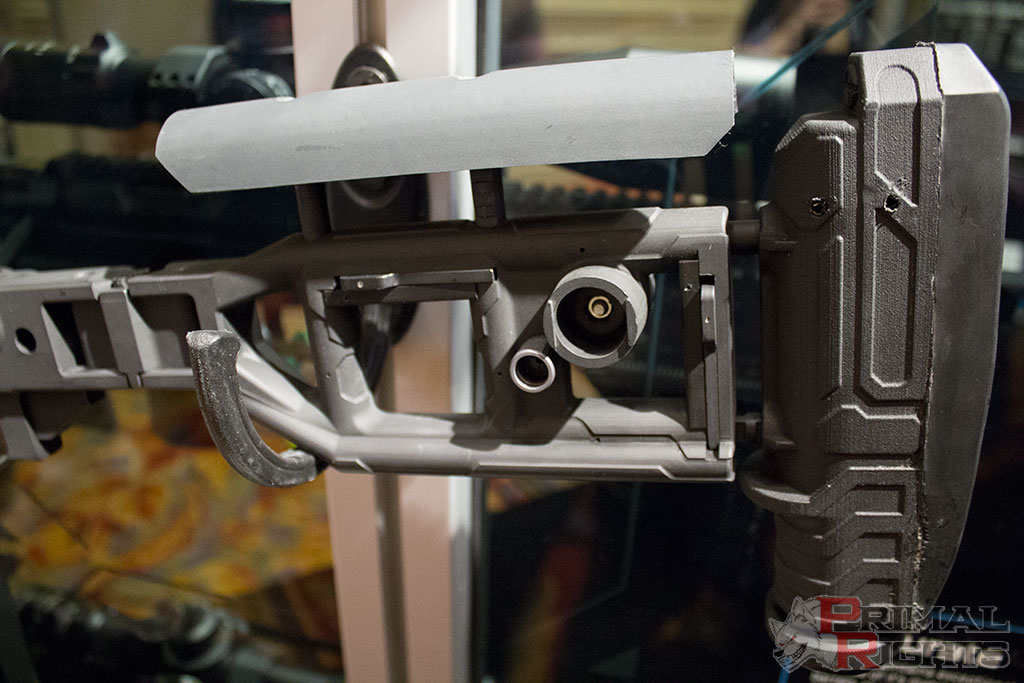 Mega Arms
Some cool products from Mega this year. They took a stab at a chassis and did a pretty good job, though I've never been a fan of the ergo's provided by AR15 components on a bolt gun. The PRS stock is an "easy button" to full adjustment, but there was definitely something lacking in the ergo's department. They did a good job on the front end though. Quality machine work and the modular clip-on rail was a nice touch. Over a thousand bucks by the time you get it all setup with some good AR parts though.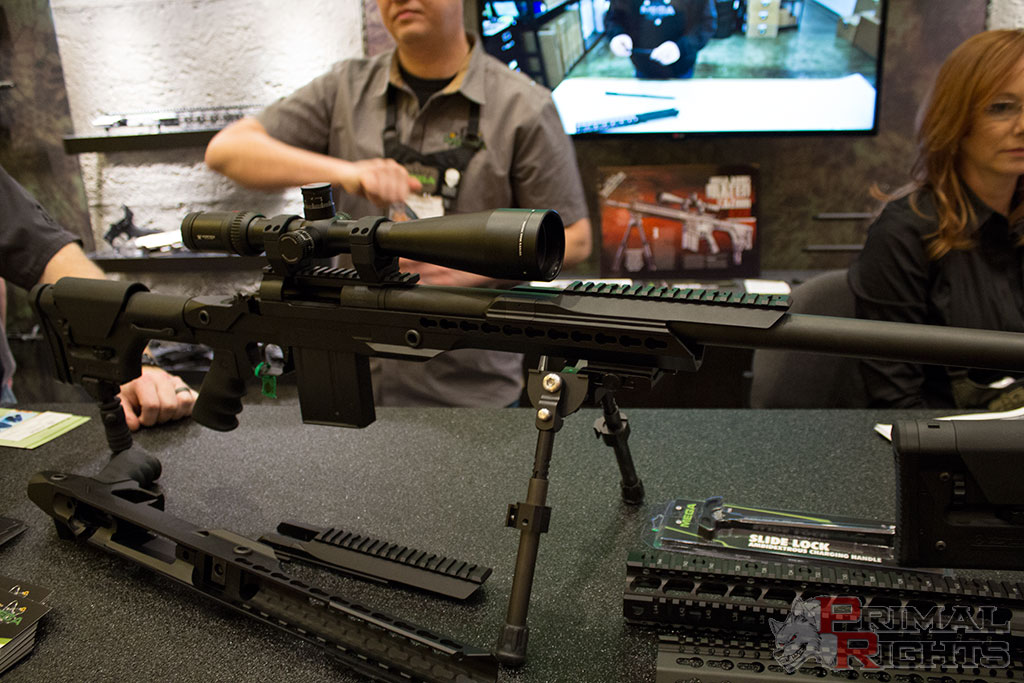 Ambi charging handle here with a spring loaded latch. Pretty cool!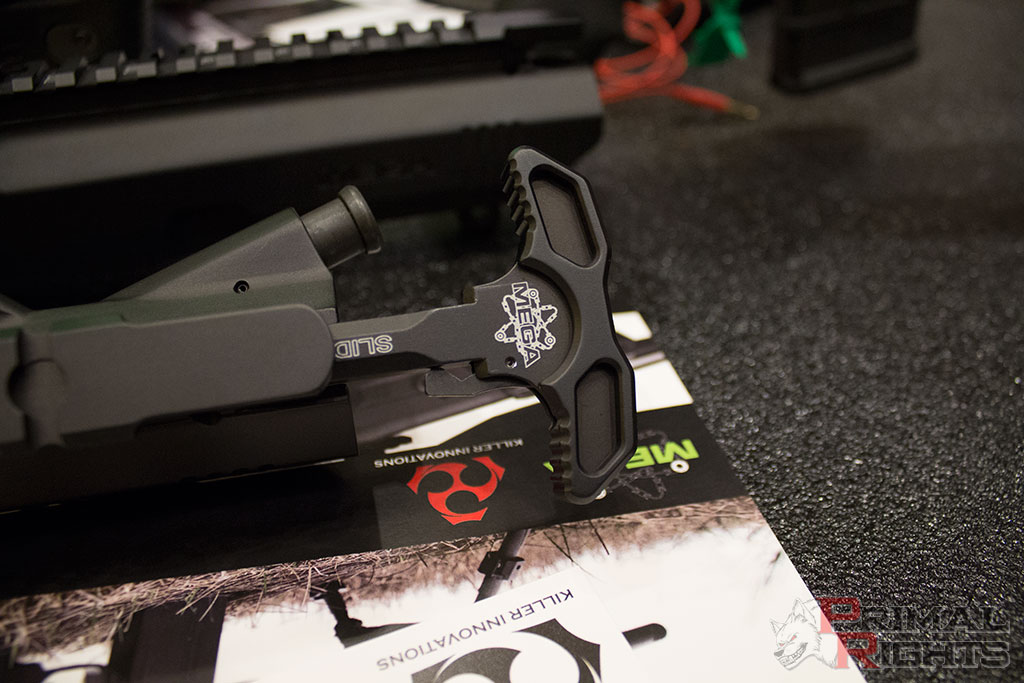 Lyman
Their new $300 digital bore scope which can snap pics to an SD card is awesome! That's all I have to say about that.
Cadex
These guys have some seriously cool stuff going on this year. Their new action is very interesting. The bolt lift and ergo's of the action are incredible. Right up there with the BAT Tactical. They are suppose to be getting with me on pricing later on for just the action. They had it all together in their branded rifles. The rifles were fairly unimpressive as a whole, but the action seemed outstanding. I'm not a fan of the safety location/design. The action is a breath of fresh air amongst countless rem-700 clones. It's a 3-lug design with a m16-style extractor. It will take any rem700 trigger, and they developed their own as well. It's a very unique trigger. Feels very much like the Geisele S3G with a "roll on" type pull rather than the normal wall/break type trigger designs. Not sure what to think of it in a precision rifle. Kinda weird. I'll be keeping a close eye.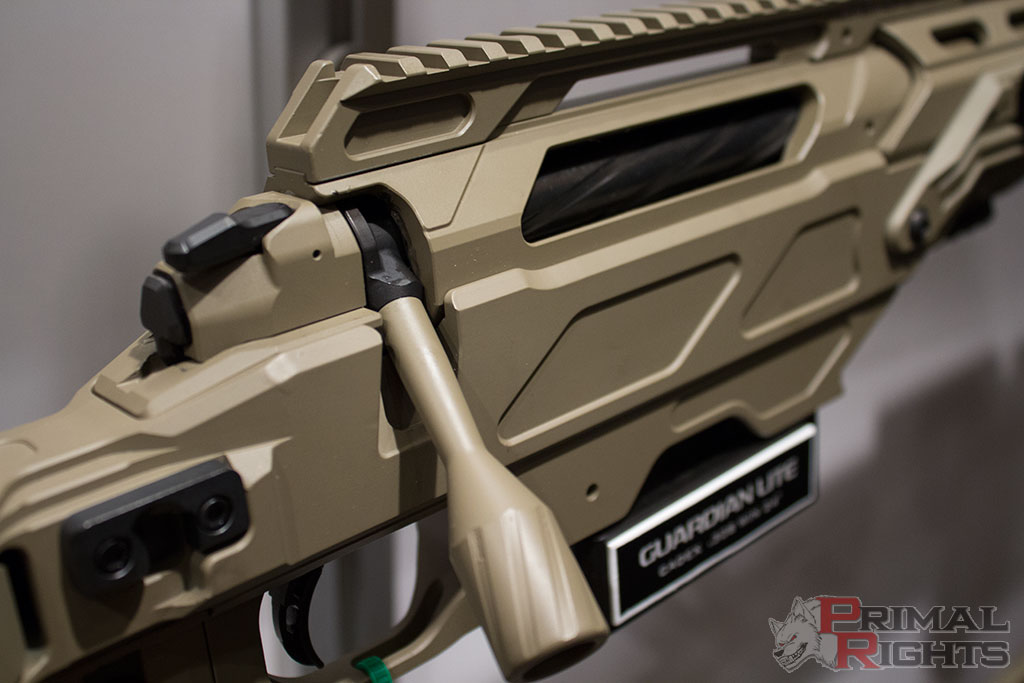 Mack Brothers
The same south dakota company that machines the majority of Badger Ordnance's stuff produces these cans. Great outfit with a great product. Their attachment method is very innovative and has been received well!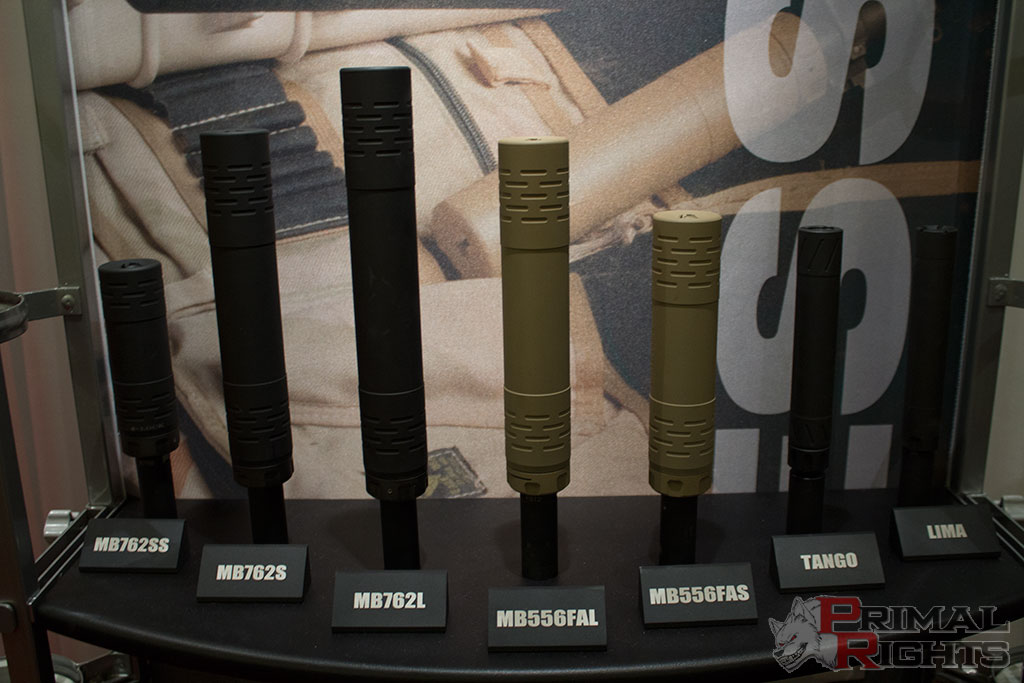 B&T Industries
Atlas bipods? What's not to love!?!? I stopped by for one reason alone: To inspect the latest prototype for the 5H, their new heavy duty bipod. My 375CT is begging for one of these things.
Kasey was his usual awesome self. I took more awesome pictures, but refuse to post them out of respect for his wishes. His unscrupulous dirt bag of a competitor has been trying hard to steal his designs for several years now. No need to help the enemy.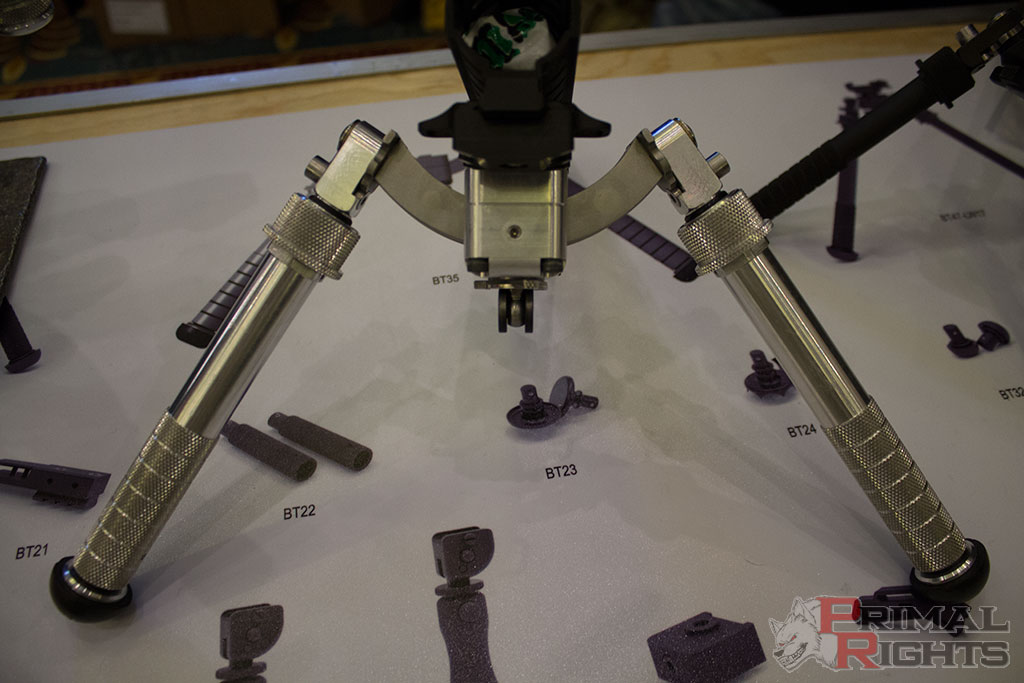 Minox
I turned the turrets and I think I threw up in my mouth a little bit. Nothing worth talking about here.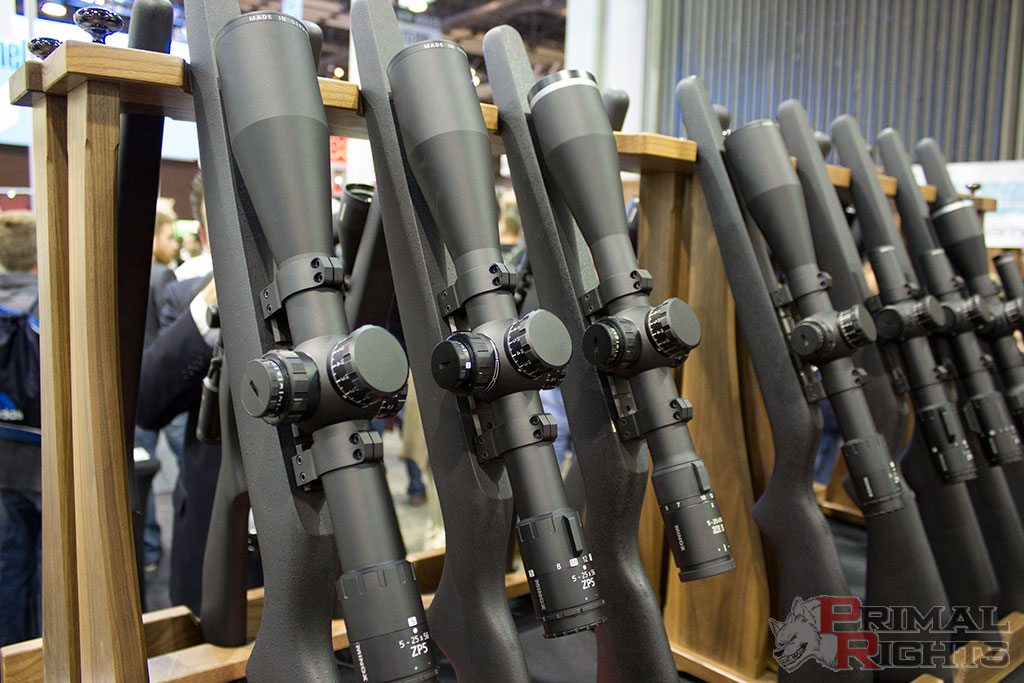 IOR
I stopped and ran some turrets and poked around. Nothing has changed. Still junk from one end of the spectrum to the other. They don't even deserve a picture.
Steel Core
These guys sure have a unique utilitarian rifle. Points for originality and tank-like features. Decidedly proprietary, and very rudimentary in appearance. Neat, and points for effort... but I won't be running out to buy one. If someone was looking for a unique rifle for the sake of being different... it would be fun to try.