Discussion Starter
·
#1
·
This is a very interesting project that has challenged me in a variety of ways. The rifle in question started life as a Turk K Kale action, with a 29 inch barrel.
I regret not taking pics as it arrived, but I will post pis of another just like to show what it looked like. The rifle had a very thick stock, that was brand new with no finish on it. The stock was not even fully inletted as the bolt stop would not move. With all the hype on scout/guide guns recently, and some hints from a certain unnamed SC member I set to work.
The barrel on this rifle only so so, but I had another take off that appeared brand new, so I decided on 20inches for a good length. I cut the barrel to length, and recrowned in a lathe. I should mention that the front and rear sights/bases were removed prior to the lathe work, and reinstalled later. The sights are silver soldered on and require heating to remove and install.
Next I blasted the barrel and parts in my blast cabinet. I then set to work on the action. I trued it completely just as in the sniper project, but it took many more attempts toget the lugs and bolt face square than the yugos did. I also removed the ringextension found on turks, I could have done this in a lathe too, but I did it by hand with a file. I took my time here, and got a good square face on the verified by repeated die testing with a known square face on a lap. Next I drilled and tapped the action (front ring only) for a weaver mount for the eotech holographis sight(more to come later on this). I then treaded the barrel in and checked headspace, it passed with no adjustment needed.
The stock shown in the pics is the original cut down, and reshaped to fit the new barrel dimension. I will cover the stock work in another post, but here are some pics.
Turk Mauser exactly same as this one.

barrel cut down to 20inches

Mauser stock cut down and reshaped, bolt disassembly ring out, and cross bolt out.

Action and barrel assembled and blasted

Same as above with the stock, with some decoration added, but still drying, stock has no oil or stain on it yet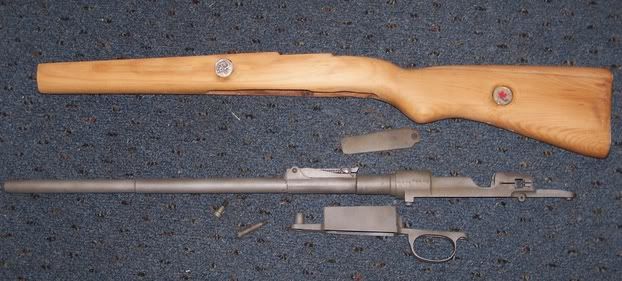 stock with barreled action in it prior to final shaping and blasting.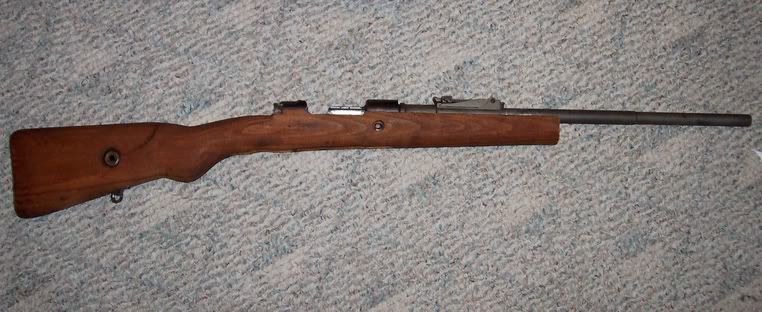 more to come.