Discussion Starter
•
#1
•
One of a kind precision rifle. 260 rounds only with factory ammo. Ships with pelican 1750 case with foam inserts. Also shipping the once fired hornady brass. Rifle was cleaned with wipe out patch out and a carbon fiber Tipton rod.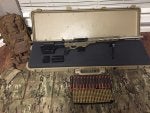 Rifle Specs:
Magpul PRS stock
Cadex field OT chassis
Timney straight shoe trigger 1.75lbs
Stiller Spectre 416 stainless steel S/A integral 20 MOA rail
Krieger 5r 1-8 twist #17 heavy varmint contour, chambered in 6.5 creedmoor at .0001" bench rest tolerances, and has a 17 degree bench rest crown.
2 10-round AI single stack mags
1 5-round AI single stack mag
Atlas bipod
258 pieces of once fired Hornady brass
Pelican 1750 case
Tab gear shooting mat and rear bag in multicam
FOR SALE!!!
$4995