Discussion Starter
•
#1
•
A friend of mine has been teaching LE sniper courses since retiring from the Army a few years ago. He noticed that people were showing up with 3 different types of rifle: deer hunting rifles, factory barreled actions in drop-in stocks with the latest "tactical" gear hanging off of it, or long range precision rifles (a rifle accurate at 1000 yards will be accurate inside 300 yards, but is not ideally suited for LE).
My friend spec'd out the rifle, and I handed the specs off to Ozzie Suarez @ Suarez Tactical Rifles (
http://www.suareztacticalrifles.com/
)
At the heart of the rifle is a Remington 700 action.
Ozzie trues the action by reaming the bolt ways true. The receiver's threads are trued to the center line using the single point cut method, the receiver face is squared to the center line, and the integral lugs are trued to the center line. The bolt lugs are then hand lapped to the lugs on the receiver.
Since maneuverability was a priority and lightweight was not, a 20" Krieger barrel with an MTU contour was used. I opted for a 1:10 twist since I will be shooting more 175 gr than 168 gr (1:12 twist also available).
Top: Kreiger barrel w/ Tubbs recoil lug
Bottom: Factory Remington SPS Tactical barrel and recoil lug
The barrel channel is cleared to allow the barrel to freely float and the stock is bedded.
The finished product:
I had a Weaver Tactical 3-15x50 sitting around, so I had Ozzie mount it on the rifle with the Leupold 1-piece base and Mk4 rings that were on the donor rifle.
But how does it shoot?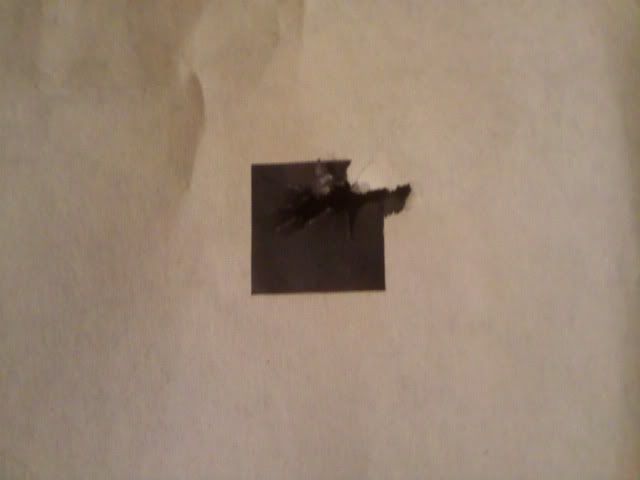 26-Sept-10
4 shots @ 100y
Temp: 71
Wind: --
3-Oct-10
4 shots @ 100y
Temp: 65
Wind: --
3-Oct-10
4 shots @ 300y
Temp: 65
Wind: --
FYI- all the targets used are 1x1 inch squares
I couldn't be happier with the rifle. Ozzie is a standup guy and I would not hesitate to have him build me another rifle.
The rifle goes off to "school" in two weeks. I'm can't wait to hear how it performs.