Discussion Starter
•
#1
•
I am listing for sale my Kimber 82G Smallbore Target Rifle.
This rifle is priced as an entire package, for $
950
shipped and insured. The rifle will ship in a boxed hard case with sights detached (but irises still installed) and bubble wrapped separately in the case.
The following photos will explain a lot here is a short list of the material improvements that have been completed:
To start with, I bought the rifle in-person at the CMP North Store at Camp Perry.(edited to remove test target verbage)
--Pillar and deep bedding of entire action area, and bedding of the trigger guard and front action screw escutcheon with Devcon 10110. You may note that the front trigger guard screw is not installed. This is intentional, as the trigger guard was bent from the factory in a way that was imparting a lot of stress if that screw was installed. Since it is entirely rigid enough without that front screw (which is a placeholder, not an action screw), I left it out. The barrel was bedded about 2mm left of center such that a right handed-shooter's sling tension would not flex the forend enough to contact the barrel on the opposite side. Either way, the barrel floats by a good margin.
--Hand re-contouring of pistol grib to remove the "2x4" effect for a right-hand shooter. It is not a palm swell as much as a removal of material to allow the meat of your thumb/palm to get behind the rifle, promoting a more natural wrist angle. In other words, it is corrected to what it should have been.
--The forend has been rounded to remove the sharp ~90-degree angles of position stocks in the 1980's. We've pretty well proven them to be a hindrance at this point, and they are uncomfortable, so away they went.
--I parted off the comb of the stock and installed Steve and Shirley McGee's adjustable cheekpiece hardware. I installed it to enable slightly higher minimum height, and obviously adjustability. The rear end of the parted piece was shaved down, and epoxy bedded to the front of the buttplate to provide a slick surface and to protect the rear of the Walnut…then stained to match.
--All wood surfaces inside and out have been sanded to about 600-grit, stained with Lancaster pigment stain, and then hand rubbed and wet sanded with 1500-grit and oil. It is a good finish for a target firearm, and is easily maintained in the event you scratch it.
--I filled the holes from the original butt adjustment hardware, then installed David Tubb's 4-way adjustable buttplate. It is painstakingly hand-fit and contoured to match the stock.
--The trigger's sear surfaces have been honed with 3M microabrasive paper laminated to glass plate; final hone was at 0.5 micron…so it's pretty smooth. Basic geometry was not changed, but the resulting improvement in smoothness and break was notable. The trigger is set to a safe 2.0 lbs, and is very consistent.
--"Solamar" of Rimfire Central was, for a time, making billet aluminum improved feed ramps for these rifles. I got one, and I liked it, so it stayed in the rifle. Neat little piece of machining, and it puts the round straighter in line with the chamber to reduce wax shaving.
--It also has a J&P Chrome Silicon mainspring, and J&P improved (corrected) cocking screw. It got the J&P cocking screw before it had seen a brick of ammo.
--The front Iris is a Gehmann 520C 2.9-4.9mm iris in 100% condition. The rear iris is an Anschutz 9775 0.5-3.0mm, also in 100% condition.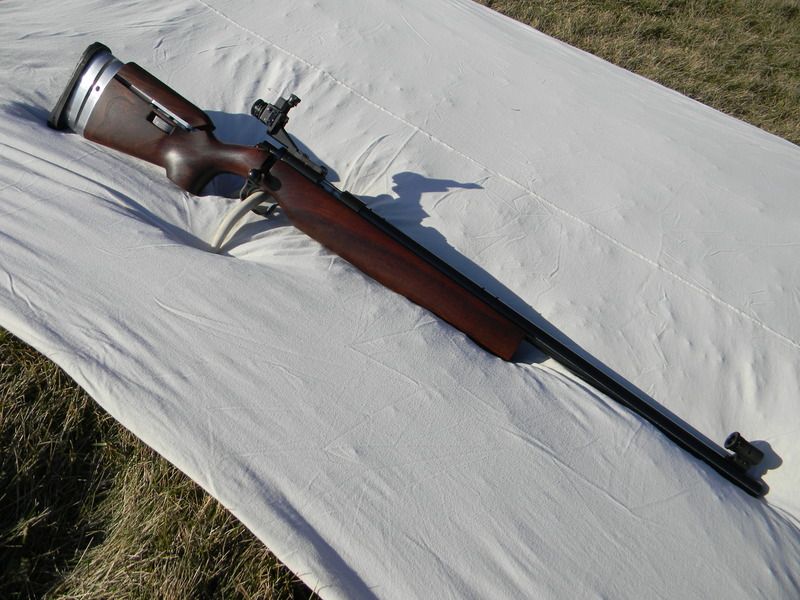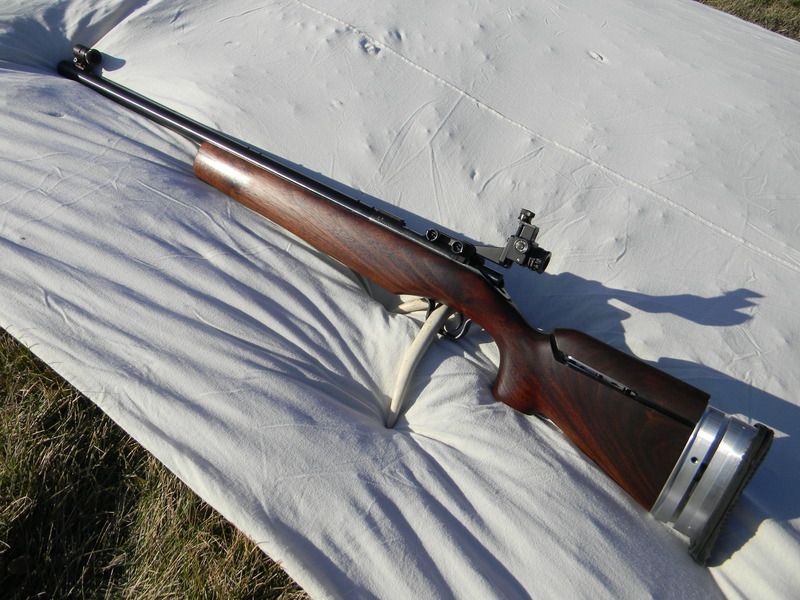 Album:
Kimber 82G by Nathan Scott | Photobucket
As it now stands, the rifle will quite handily clean any NRA target I've presented to it, and is not particularly picky about ammo, which is nice. For the International 50m target, I can't say. I know that it will shot groups plenty small enough for 5-6 shots to clean the ISSF, but I invariably toss one or two…tough targets, and I'm not an Olympic class shooter.
Please take a look at the photos above, and the album linked thereafter, and ask any questions you'd like.
I will be taking a look at the listing as often as possible, but if you want to make sure I get your message as soon as possible, send me an email at natdscott (at) yahoo [dot] com
Thanks for reading, and looking!
-Nate